---
- Laatste nieuws
- Nieuws in 2007
---
---
---
---
---
Links





---
Professor Antal E. Fekete
Professor Antal E. Fekete is a renowned mathematician and monetary scientist. This site will illuminate some of his important ideas in the areas of:
Fiscal and Monetary Reform
Gold Standard University
Real Bills Doctrine
Basis
Discount versus Interest
Gold and Interest

---
Augustus 2008
---
Fico Mentions Meeting With Gyurcsany at Hungarian Embassy Reception
August 21, 2008, www.tasr.sk


Bratislava, August 21 (TASR-SLOVAKIA) - Slovak Prime Minister Robert Fico attended a reception on Wednesday evening organised by the Hungarian embassy in Slovakia to mark Hungary's national holiday dedicated to the Constitution and King Stephen I (reigned 1000-38).
At the reception in Bratislava's Bonbon Hotel, Fico spoke for approximately 15 minutes with Hungarian Ambassador Antal Heizer. The two discussed an expected meeting between Fico and his Hungarian counterpart Ferenc Gyurcsany, Slovak Foreign Affairs Minister Jan Kubis confirmed for SLOVAKIA.
. . .
---

Athletics score easy win over Exeter
August 21, 2008, www.delhinewsrecord.com/


...
Jason and Jeremy Szabo, combined with Allan Carney to do the rest of the scoring for the Athletics, who have played with new confidence since coaches Antal Szabo and Bob Kirk have come on board midway through the season. The coaches made a formation change early on, and the team hasn't looked back.
. . .
---

Antal Szalai and his musical folk
Katherine Feeney | August 8, 2008, www.brisbanetimes.com.au/news/whatson/


Antal Szalai who, along with his Hungarian Gypsy Band, will perform at the Redland Performing Arts Centre the weekend, explains that their style of music shares a close relationship with the moods of his folk.
"The gypsies are very temperamental people... and gypsy music comes from the heart," Szalai said.
"There is a lot of feeling and it is romantic.
"Also, they play with a different sort of rhythm that is more interesting".
Szalai comes from a family of gypsy musicians and studied the violin at the Bela Bartok Conservatory of Music in Hungary.
In 1967 joined the Honved Ensemble, a musical organisation which comprises a symphonic orchestra, a folk dance troupe, a choir and a gypsy orchestra.
The ensemble was supported by the Hungarian Government and the Hungarian National Army. He became leader of the Hungarian Gypsy Orchestra in 1969.
Come and hear the evergreen traditional Hungarian and international gypsy melodies as well as some of the most popular highlights from the world of operetta.
---
---

ABC Wednesday: "C" is for Cannon
Wednesday, August 6, 2008, penglynns.blogspot.com/


. . .
And as a musician I must also throw in the following:
Cannon have sometimes been used in classical pieces with a military theme. Giuseppe Sarti is believed to be the first composer to orchestrate real cannons in a musical work. His Te Deum celebrates the Russian victory at Ochakov (1789) with the firing of a real cannon and the use of fireworks, to heighten the martial effect of the music.
One of the best known examples of such a piece is another Russian work, Pyotr Ilyich Tchaikovsky's 1812 Overture. The overture is properly performed using an artillery section together with the orchestra, resulting in noise levels requiring musicians to wear ear protection. The cannon fire simulates Russian artillery bombardments of the Battle of Borodino, a critical battle in Napoleon's invasion of Russia, whose defeat the piece celebrates. When the overture was first performed, the cannon were fired by an electric current triggered by the conductor. However, the overture was not recorded with real cannon fire until Mercury Records and conductor Antal Doráti's 1958 recording of the Minnesota Orchestra. Cannon fire is also frequently used annually in presentations of the 1812 on the American Independence Day, a tradition started by Arthur Fiedler of the Boston Pops in 1974.
---

Contact frontline of troops in Aghdam Region to be monitored
16 Jul 2008, en.apa.az/


Baku. Mahbuba Gasimbayli-APA. Monitoring is planned to be held at the contact frontline of troops in Yusifjanli village of Aghdam Region in accordance with mandate of OSCE personal representative today, APA reports
Andrzey Kaspszyk, OSCE personal representative and his field assistants Imre Palatinus and Vladimir Chountulov will represent Azerbaijani side in the monitoring, field assistants of OSCE personal representatives Peter Kii and Antal Herdich and Irji Aberle on the opposite side.
---

Swoon to gypsy sounds
Tuesday 15 July, 2008, www.hillsshiretimes.com.au/article/


EXPERIENCE a night in Budapest and Vienna when Antal Szalai and his gypsy band come to the Dural Country Club on August 24.
Look forward to an afternoon of ``swooning ardour'' and ``gorgeous tones'' when one of the world's best gypsy violinists performs with his band at 4pm.
This will mark the group's sixth Australian tour and will result in them performing more than 80 concerts nationally.
Szalai received the coveted Ferenc Liszt Award in 2005, and with the gypsy band has performed at many major concert halls arts festivals all over the world.
From a family of gypsy musicians, Szalai studied the violin at the Bela Bartok Conservatory of Music in Hungary and in 1967 joined the Honved Ensemble which was supported by the Hungarian government and army.
``Gypsy songs began with primitive rhythms,'' Szalai said. ``About 300 years ago, the tradition of the gypsy band started and the band comprised a violin, a viola, a cello and a cimbalom.''
The group's repertoire includes classical pieces such as Liszt's Hungarian Rhapsody, Brahms's Hungarian Dances, pieces from the members of the Strauss family and traditional Hungarian rural folk music.
``The gypsies are very temperamental people and gypsy music comes from the heart,'' he said. ``A Hungarian proverb says: `you can make a peasant drunk on a glass of water when a gypsy violin is playing'.''
Tickets are $25 per person. Bookings can be made at the Dural Country Club 96511600.
---

Antal Békefi
11 Jul 2008, www.bbj.hu/whosnews/




Antal Békefi, acting marketing director of BAT Hungary Kft until June, is now pursuing his career at BAT in Switzerland where he fills in the position of marketing director. Following his transfer his tasks have been taken over by Dániel Buzási as commercial, marketing and distribution director, and László Hunyady as marketing director.
Békefi, 34, has been with the Hungarian BAT team since 1997 and has filled in multiple positions – gaining experience among others in the field of sales, as a regional manager, and as a strategic analysis and planning manager. Later, as a strategic analysis and planning director, and thereafter as a marketing director he significantly contributed to the business success of BAT Hungary, and took part in the renewal of the Hungarian brand portfolio.

---

Antal deal
6th July 2008, www.skysports.com/story/


Meanwhile, Hungarian goalkeeper Botond Antal will sign a professional contract with Watford when he turns 17 on 22nd August.
The Hornets fought off competition to lure the youngster from Ujpest FC last year and he played for the reserves in their final five games of last season.
"Last year I had to choose between Nottingham Forest, Reading or Watford and I chose my present team because I thought I would be able to develop the most here and I don't regret it," Antal told Nemzeti Sport.
"This contract is a new chance for me. I want to prove my abilities, get closer to the first team and then step forward."
---

BEAVER CREEK
2-7-2008, www.vaildaily.com/


C. Anthony Gallery will host Hungarian master painter Antal Goldfinger. The artist will be at the Gallery from 3 to 8 p.m. today and Friday.
Goldfinger mixes oil paints wtih lindseed oil to achieve a multidimensional affect in his paintings, said Josephine Delucinges, an art consultant at the gallery.
"Goldfinger renders that which is intangible and not easy to capture — the feel of various textures like porcelain, metal, silk, satin, clay, decay and imperfections," she said. "He captures the tenderness of rose petals, the translucency of grapes and the juicyness of strawberries. Paradoxically the French call still life paintings 'La Nature Morte' or dead nature. Antal's still lifes are full of life."
Visit www.canthonygallery.com for more information.
---

What's next for fitness centers?
1-7-2008, www.architectradure.com/


Posted by Cati Vaucelle @ Architectradure
I read an issue of Art in America -featuring the amazing work of Janine Antoni on the cover and discovered a past work of Antal Lakner: home transporter (from the passive working devices series).
Skewering a vain leisure society that "labors" pointlessly on exercise equipment, Lakner designs workout machines like the "Forest Master" (a saw) and the "Home Transporter" (a wheelbarrow). Each is accompanied by a didactic photo of a worker using the prototype tool.
I find this work actually very marketable as a neat idea for making fitness centers more fun! I know it is not the point and the work is remarkable, but it is also an amazing interface design for transforming fitness centers. Instead of trying to hook up a rowing machine to a virtual boat in a video game, why not connecting the actions with meaningful activities!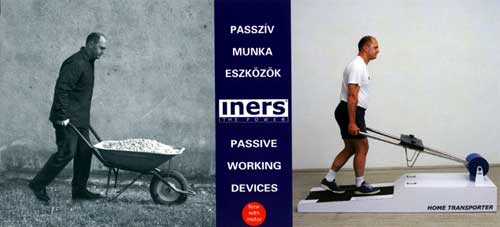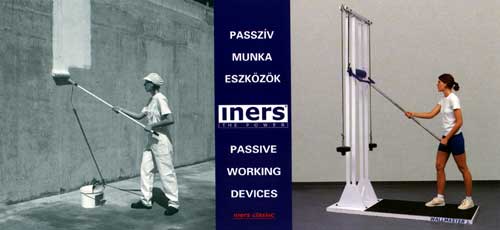 Bron: www.artpool.hu/lehetetlen/real-kiall/nevek/laknera.html
---
Juni 2008
---
Crashed a Hungarian L-39 Albatros jet trainer
20 juni 2008, www.avionews.com/


Budapest, Hungary - Announced by a Defense Ministry spokesman
(WAPA) - Died two pilots of an Aero L-39 Albatros jet trainer used for training flights, crashed today in an Eastern region of the Country.
The announcement was given by Istvan Bocskai, the Defense Ministry spokesman, and Antal Taligas, second spokesman, informed the Defense Minister as soon as find out the tragedy, while he was in official visit in Slovenia.
The airplane was carrying out a training, and crashed on the Fehergyarmat region. The reason of the accident must still be established. (Avionews)

UPDATE3 - Two pilots die in E Hungary military aircraft crash (adds details on pilots)
20 juni 2008, english.mti.hu/


Budapest, June 20 (MTI) - Both pilots died when a military L39 Albatros fighter trainer jet crashed near Fehergyarmat airport (E Hungary) just before noon on Friday, Defence Ministry spokesman Istvan Bocskai told MTI.
The pilot lieutenant Zoltan Ignacz, 31, and his trainer lieutenant colonel Andras Janicsek, 47, were on a practice session aboard the Czechoslovak-made aircraft, when -- for reasons yet to be established -- the jet crashed and burst into flames. The two pilots had attempted but failed to eject to avoid the crash, Bocskai said.
An eye-witness told local online news portal szon.hu that he had seen the plane flying at a very low altitude, before lifting up and then nose-diving.
Janicsek had completed several thousands of flying hours and a trainer course in Canada. He left behind a wife and three children.
Ignacz, who had also trained as a pilot in Canada, was completing training to become an MiG-29 or Gripen pilot, Bocskai said.
Firemen were alerted at the highest security level and have managed to extinguish the fire, spokesman for the National Disaster Management Directorate Gyorgy Szentes told MTI.
The area has been closed off for investigation by armed forces personnel, MTI's on-site correspondent said.
Defence Minister Imre Szekeres interrupted his official visit and talks in Slovenia and is on his way to the scene of the accident. He has asked Chief of Staff Andras Havril to investigate the crash, the ministry's press chief Antal Taligas said.
The L39 Albatros was manufactured by Aero Vodochody in the early 1970s. The last time this model crashed in Hungary was in July 1995, but the pilots managed to eject to safety.
---

June 19 - Win or Die
June 19th, 2008, www.onthisfootballday.com/


FOR those of you who have seen David Brent's ill-advised bash at motivational speaking, you will know that there are many different approaches to geeing up a team before a big match.
On this day in 1938 Italy's fascist dictator Benito Mussolini brought his particular brand of encouragement to bear when his national team faced Hungary in the World Cup final in Paris.
Italy were reigning champions having triumphed on home soil in 1934 when holders Uruguay did not defend their title and Argentina sent a weakened squad because they were so worried about the Italians poaching members of their team who had Italian heritage, as had already happened with the captain Luisito Monti, Raimundo Orsi and Enrico Guaita. Known as Oriundi, these Argentine/Italian players were instrumental in securing the trophy in 1934.
By 1938, with the Second World War looming in Europe, the World Cup was an ideal arena for a bit of national posturing and Mussolini was perhaps keen to improve his standing as third in the list of the Big Three dictators of the day by retaining the World Cup.
After beating Norway, France and then Brazil, Italy faced Hungary in the final and just to make sure his players were fully focused on winning Mussolini sent each of them a telegraph which simply read: "Vincere o morire."
Literally translated this means "Win or die," and word got out before the match that the Italians were not so much playing for a win bonus as a loss death sentence.
Two goals each from Gino Colaussi and Silvio Piola were enough to give the Italians a 4-2 win over Hungary, Pál Titkos and György Sárosi getting their goals.
The Italians had retained their trophy but some observers felt the Hungarians had perhaps given them a bit of an easy ride with Mussolini's words in mind.
Antal Szabó, the Hungarian goalkeeper is reported to have said after the match: "I may have let in four goals, but at least I saved their lives."
A noble act indeed although what an excuse to come out with after you have just lost the World Cup final.
The last laugh may be on Szabó after all though as Mussolini's note "Vincere o morire" was not intended literally and is simply a rabble-rousing term which just means, "go out there and do your best lads!"
Still, in those days you can understand why a telegram with a death threat on it would have been taken seriously when coming from a fascist dictator.
Here are the goals from the final, and don't forget to swing by this way tomorrow when we'll be looking at a player might have been nicknamed the Flying Dutchman, had he not been afraid of flying.
---

ProtAffin AG strengthens Scientific Advisory Board
12 Jun 2008, www.bionity.com/news/


ProtAffin AG announced that it has strengthened its Scientific Advisory Board with the appointment of Dr. Antal Rot.

Dr. Rot is currently Group Head at the Novartis Institute of Biomedical Research (NIBR) in Vienna, Austria and is a key figure in the field of chemokine biology and the role of chemokines in inflammatory diseases. He has published many seminal papers, including articles on the interaction between chemokines and cell-surface glycan structures. Dr. Rot initially trained as a medical doctor and Pathologist, and carried out post-doctoral research at the National Institutes of Health (NIH) in the US. He has worked at the NIBR in Vienna for the last 20 years.

Professor Andreas Kungl, CSO of ProtAffin, commented: "I am delighted that we have been able to attract Dr. Rot to ProtAffin's Scientific Advisory Board. He is a renowned and respected leader in the field of chemokine involvement in inflammation and we will benefit greatly from his leading expertise as we bring our chemokine-based lead product PA401 into clinical development."
---
Mei 2008
---
Collective exhibition
30.05.2008, readerlist.freeflux.net/blog/


*Na mi van?* (*What's Up?*) - *Contemporary Hungarian Art* is the conceptual umbrella under which several contemporary Hungarian art exhibitions and projects taking place in Budapest between July 21st – August 31st 2008 are gathered together in the organization of Mucsarnok / Kunsthalle Budapest. The nucleus of the structure is given by the large format exhibition with the same title, presented in Mucsarnok / Kunsthalle, which aims to set forth what is topical, novel and noteworthy in contemporary Hungarian art. The pursuit of latest developments of the local art scene as well as new framing perspectives are among its working methods. About twenty artists are asked to reflect on what concerns them nowadays and make that visible in the installation of their works.

*With works by:* András Braun, László Csáki, Gábor Erdélyi, Kis Varsó, Gábor Arion Kudász, Ilona Lovas, Kamilla Szíj, Imre Bukta, Szabolcs Kiss Pál, SZAF / Miki Mécs & Judit Fischer, György Szász, Beatrix Szörényi, Péter Türk, Gyula Várnai, Róza El Hassan, Tibor Horváth, Tamás Kaszás, Antal Lakner, Pál Szacsvay, Société Réaliste.
---

Federal officials deny dumping inaction
Environmental group claims army corps didn't respond quickly enough at Arroyo Las Posas
Officials for a federal agency deny accusations of incompetence by a Ventura County environmental organization regarding their role to stop the illegal fill of Arroyo Las Posas.
The founder and attorney for the Ventura Coastkeeper/Wishtoyo Foundation claimed the U.S. Army Corps of Engineers, the federal agency in charge of regulating the waterways, did nothing to stop the landowners from dumping fill in the creek and changing the course of the waterway. The accusations were published in a recent press release from the organization and in an article printed in the Ventura County Star.
"I think that is a mischaracterization," said Antal Szijj, project manager for the U.S. Army Corps of Engineers, regarding their role in stopping illegal fills. "We initiated the Muranaka Farms and Tom Staben properties' investigation and passed it to the Environmental Protection Agency. They have more muscle when it comes to doing enforcement."
U.S. Army Corps of Engineers project manager John Markham and Szijj originally determined the claims of violations by Staben and Muranaka Farms were accurate. The landowners had been illegally dumping dirt, debris and rock in Arroyo Las Posas since 2005. The case was then passed along to the EPA, who had more resources to resolve the problem.
. . .
---

Honvéd Budapest vs. Vasas Budapest - Preview
19.05.2008, www.worldpicks.eu/hungarian-betting-previews/


Honvéd hasn´t won any from last 8 matches, so this must be their wake up call. Vasas plays good away but, their best striker Németh is injured so I don´t expect danger from Vasas strikers. Honvéd win first match 2:0, so it should be easy match for home team.
Also Antal Nagy - former Honvéd player, who has played for this team in 80s said, that he´s 100 % sure that Honvéd will win this match.
. . .
---
April 2008
---
Panelist Ades Panak, a ten year veteran of the gaming probability science industry, had several solid points during this afternoon's presentation
April 27th, 2008, www.artwavelajolla.com


The gaming probability science conference also boasted an outstanding product offering, with specialty vendors and sales personel from all major companies. Crehan Beckworth supervised this segment of the conference, and stated "People are buying this gaming probability science stuff like hotcakes…I'm thrilled about the success of these products!" Some area gaming probability science commercial advertising firms also benefitted from conference attendance. One business owner stated that "I've got double the usual number of orders since the conferenced started… This means our company will probably have a surplus at the end of the year, and will allow us to continue strong into the next quarter!"
Mayor Antal Craven, who spearheaded the original gaming probability science committee that brought the conference to town, spoke joyfully about the boom for local business: "Restaraunts, Night Clubs, and the mall have all benefitted greatly. Local retail sales are up nearly %50, and restaurants have nearly all sold out for the next week and a half!"
. . .
---
Februari 2008
---
What the newspapers say:
18 February 2008, english.hotnews.ro/



All newspapers today read about the possible effects of the Kosovo declaration of independence upon Romania's politics. Also in the news today, Romanian apartments are more expensive than those in Western countries. Last but not least, chances are that Romania will be represented by a Swedish band at European song contest Eurovision.

Newspapers provide in depth reporting on the Kosovo declaration of independence on Sunday and its effects upon Romania. Kosovo Prime Minister Hashim Thaci declared that the province was a democratic one that respected its ethnic diversity, Cotidianul reads.
Romanian newspapers are all concerned about the dangerous precendent created by Kosovo as Romanian politicians fear that ethnic Hungarians in Transylvania might some time demand independence. Rightfully so as Hungarian Democrats (UDMR) members Antal Arpad Andreas and Csaba Sogor were sent to Kosovo to first-hand witness events there, Evenimentul Zilei reads.
UDMR leader Marko Bela declared that he saluted Kosovo's move and said he was confident that this was the best envisioned solution to dissolve ethnic problems in any country.
---

OSCE to hold monitoring on contact front line of Azerbaijani and Armenian armed forces
13 February 2008, www.today.az/news/politics/



A monitoring on the contact front line of Azerbaijani and Armenian armed forces is planned to be held near Tapgaragoyunlu village of Geranboy on Thursday.
The due announcement was made by the press service for Azerbaijan's Ministry of Defense, according to Day.Az.

The monitoring will be held in accordance with the mandate of the personal representative of the OSCE chairman-in-office.

Azerbaijan will be represented by a personal representative of the OSCE chairman-in-office Andjey Kaspshik his field assistants Imre Palatinus and Jaslan Nurtazin.

Armenians will be represented by field assistants of the personal representative of the OSCE chairman Antal Kherdich and Miroslav Vimetal.
---
Januari 2008
---
'VIP' treatment sold to prisoners in Hungary
Wednesday, January 30, www.canada.com/edmontonjournal/news/



BUDAPEST - Hungarian police said Thursday they had arrested 11 people on charges of selling special prison treatment and "VIP" jail cells, sometimes for thousands of dollars apiece. Two of the 11 arrested were former prison directors, who were in office when the alleged corruption was committed in 2005 and 2006, police said. Seven of the suspects are military officers holding the rank of colonel.

All are accused of corruption, fraud and falsifying documents, Hungarian military police head Antal Hegedus told reporters.

For the right price, those serving jail time could buy special treatment -- enjoying more visits from loved ones, for example, or special outings and more comfortable cells, police said.

For $5,900, one prisoner was able to serve his time in a jail for for minors rather than for adults.
---

Fishburne, Reno, and Ventimiglia Get Armored
January 25, 2008, www.thedeadbolt.com/news/103057/



The strike has led to a lack of casting or production stories, but Armored, a new thriller produced by Screen Gems, is moving forward, casting Laurence Fishburne, Jean Reno, and Milo Ventimiglia this week. Variety describes the film as a 'heist actioner'. Nimrod Antal, who directed Kontroll and Vacancy, will direct Armored from a screenplay by James V. Simpson. Laurence Fishburne, Jean Reno, and Milo Ventimiglia join the already cast Columbus Short, Fred Ward, and Skeet Ulrich, which is shooting in Los Angeles.

Armored is about a young armored car guard (probably Milo Ventimiglia, who plays Peter on NBC's Heroes) who gets persuaded by his veteran colleagues to empty a truck of $10 million, according to Variety. Armored will be produced by Sam Raimi, Josh Donen, and Dan Farah and executive produced by Chris Lemos and Luis Guerrero.

Milo Ventimiglia is definitely trying to strike while the Heroes iron is hot, recently finishing shooting on Game for Lakeshore and an independent film called Chaos Theory. He will appear in Pathology with Michael Weston and Lauren Lee Smith next, according to IMDB. The always-working Laurence Fishburne has six films in the can, according to Variety, including 21 with Kevin Spacey, and Black Water Transit. He has also finished shooting Tortured, and Days of Wrath and is supposedly going to film Red Soil along with Armored. He's also in negotiation on 4Chosen and The Last Full Measure, according to IMDB. Jean Reno has been an action star for years, appearing in The Da Vinci Code, Ronin, and La Femme Nikita. Jean Reno has finished shooting Margaret, Cash, and The Pink Panther 2.
---

No incident occurs during monitoring of contact frontline of troops held with the participation of OSCE Minsk Group co-chairs
16 Jan 2008, en.apa.az/



Under the mandate of the Personal Representative of the OSCE Chairman-in-Office, contact front line of troops near Yusifjanli village of Azerbaijani Agdam region was monitored with the participation of OSCE Minsk Group co-chairs today, APA Karabakh bureau reports.

The monitoring was held by the field assistants of personal representative of OSCE Chairman-in-Office Antal Herdich and Imre Palatinus from Azerbaijani side.
The monitoring in the opposite side of the contact line was held by personal representative of OSCE Chairman-in-Office Andrzej Kaspszyk, his field assistants Peter Ki, Jaslan Nurtaz, Miroslav Vimetal internationally recognized territory of Azerbaijan. The Co-Chairs of the OSCE Minsk Group, Ambassadors Bernard Fassier of France, Yury Merzlyakov of Russia, and Matthew Bryza of the United States also participated in the monitoring of the opposite side of the frontline. /APA/
---

The gardener
Posted by Guwo Rulfgh Antal, Saturday, January 12, 2008, kuchku.blogspot.com/



India is largely an illiterate country, the dust, the heat. Mosquitoes!! Flies!! Cows on the roads!! India is steeped in tradition. Stereotypes are firmly entrenched. Casteism can still be seen, but is no longer an inhibitor for what one can be. A large section is so not classy.

Our gardener, you see, was really our odd jobs man so he would also be entrusted with washing the car. In emergencies he would get the groceries or the messenger who would fetch the electrician.
More on:
---

Holy Crown returned to Hungary 30 years ago
Budapest, January 5 (MTI), english.mti.hu/



The Holy Crown of King Stephen I, the most important symbol of Hungarian statehood, was returned to Hungary from the United States 30 years ago.

The crown of Saint Stephen (r. 1000-1038), the state-founding king, and other coronation regalia were taken abroad shortly before the end of the Second World War.

They were safeguarded at Fort Knox for several decades, then returned to Hungary under a decision by Jimmy Carter, the then U.S. president. The initiative provoked sharp debates both in Congress and among Hungarian emigres who saw the step as a recognition of the socialist regime.

The Hungarian government accepted the U.S. conditions that the crown and the coronation regalia should be handed over in the absence of communist party leader Janos Kadar and displayed in public.

Secretary of State Cyrus Vance presented the crown and other coronation regalia to Speaker of Parliament Antal Apro.

The Holy Crown, the sceptre and the orb are now on display in the Parliament building, at a place accessible to the public.

The anniversary will be marked with a holy mass in Matthias Church at 1000 on Sunday, with the choir and the orchestra of the church performing Franz Liszt's Hungarian Coronation Mass.
---

What the newspapers say: January 3, 2008
Joi, 3 ianuarie 2008, www.hotnews.ro/english/press_review/



de Radu Big HotNews.ro
The new year makes its debut without any breaking news. After a few days of balances of what happened in 2007, most newspapers try to make a portrait of the year to come. In brief: all things will cost more, but the president lives well on just a 1,000 euro per month wage. We shall have more fine live music this year, but food and tobacco will cost a lot more. Sibiu will no longer be an European cultural capital, but the experience this year makes authorities think about new plans to maintain the tourists wave unchanged.

Food, fuel, car insurance, natural gas and postal services saw prices growing on January 1, 2008, but Romanians have salaries, pensions and child support funds higher than last year, while contributions for social insurance decrease.
The US Dollar will lose strength in 2008, analysts say, making European authorities search for measures to stop the euro from strengthening.

In Romanian politics, local and Parliament elections will make 2008 a decisive year for establishing the balance of forces on the political stage.
In sports, the Romanian national football team will have a difficult rundown, playing against Italy, France and Holland. The Beijing Olympics will be the main event of the year, Evenimentul Zilei reads.
. . .
A bit of quarrel is about to start again in Transylvania, where Hungarian minority leaders are about to learn and act according to the future resolutions on the Kosovo situation. Hungarian minority deputy Antal Arpad Andras says that the main target in 2008 is to efficiently use the way the Kosovo situation is handled by the main powers, same Gandul informs.
. . .
---
---